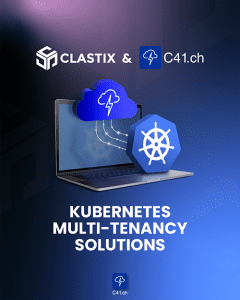 Kubernetes, the new industry standard
Kubernetes is an open-source container orchestration system for automating software deployment, scaling, and management. K8s is now an essential tool for many companies, and its adoption is vital to ensure their efficiency and competitiveness. It is a complex tool whose potential is still being discovered and evolving. Most users prefer to concentrate on applications rather than infrastructure. Businesses want to make it possible for their teams to utilize Kubernetes "as a service" (KaaS) to accelerate operations and cut expenses.
Why choose CLASTIX and C41.ch for your Managed Kubernetes?
CLASTIX is the leader in Kubernetes multi-tenancy solutions. CLASTIX products and services help organizations overcome Cloud Native adoption challenges and confidently design, build, and operate digital infrastructures based on Kubernetes. From this expertise, CLASTIX has created a new hyper-scaler solution to facilitate the adoption and maintenance of an easy-to-use Managed Kubernetes Service fully integrated into the C41.ch Cloud ecosystem.
Focus on applications
Kubernetes as a Service can assist organizations in leveraging the best features of Kubernetes without having to deal with the difficulties associated with managing operations.
Fully Managed Service
To ensure that you get the most out of the Kubernetes ecosystem while focusing on the applications and services essential to your core business, we deploy, host, and manage all of the components required for Kubernetes to function, including updates and security patches.
Auto Scaling
The infrastructure can scale rapidly within the Kubernetes as a Service model due to the high-level automation provided. Save time and bandwidth for the admin team. The number of nodes in your Kubernetes cluster can be automatically scaled up or down by a cloud controller to match your workloads and conserve resources. When not using the cluster, automatically scale the nodes to zero.
High-Availability control plane
Take advantage of a robust HA and a fully managed Control Plane to ensure that your workloads are always available.
GitOps ready
All cluster-level functionality and configuration are declarative, adding a new management level and provisioning in line with the current GitOps paradigm.
CNCF certified
100% standard Kubernetes certified by CNCF. All Kubernetes clusters respect the industry standards to bring security, stability, and robustness to your applications.
Where's the magic?
From its long experience working with Cloud Service Providers (CSPs) and Managed Service Providers (MSPs), CLASTIX created Kamaji, an open-source tool to create, manage, and operate self-service Kubernetes with a fraction of the operational burden. With Kamaji, any organization, CSP, MSP, and private enterprise can operate hundreds or even thousands of Kubernetes clusters as the hyperscalers do.
Here are some reasons why you should choose Kamaji:
Self Service Kubernetes
Cheaper Control Planes
Kubernetes Inception
Multi-cluster Management
Stronger Multi-Tenancy
CNCF compliance
Not bad, huh?
Now all you have to do is contact C41.ch to start your adoption of Kubernetes as Managed Service. If you are already familiar with Kubernetes, you can evaluate CLASTIX's solutions to implement multi-tenancy in your Kubernetes ecosystem. Thank you for your attention, and we hope to be your guides in the world of Kubernetes!